NATIONAL PHOTOGRAPHIC PORTRAIT PRIZE 2020
This exhibition celebrates the distinctive vision of Australia's aspiring and professional portrait photographers and the unique nature of their subjects
The National Photographic Portrait Prize exhibition is selected from a national field of entries, reflecting the distinctive vision of Australia's aspiring and professional portrait photographers and the unique nature of their subjects. The annual prize is the Portrait Gallery's most popular exhibition, promoting the very best in contemporary photographic portraiture by Australian photographers.
The winner for 2020 is The mahi-mahi by Rob Palmer. The Highly Commended Award went to Hugh Stewart for Eileen Kramer is a dancer. The Art Handlers' Award went to Shea Kirk for Gemma Baxter (right view). The People's Choice Award went to Klarissa Dempsey for Wonder.
For the 2020 Prize, judges Nici Cumpston (guest judge, Curator, Art Gallery of South Australia), Naomi Hobson (guest judge, painter and photographer), and Penny Grist (Curator, National Portrait Gallery) selected 47 portraits from over 2400 entries.
Image credit: Dr Christian Thompson AO, Writing on the Wall, 2019, (detail)
This exhibition is supported by the National Collecting Institutions Touring and Outreach Program, an Australian Government program aiming to improve access to the national collections for all Australians.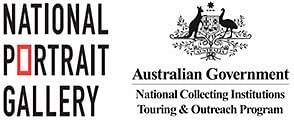 Related Pages